Overview

Crowns are the currency of Super Doomspire and are used to buy items, such as stickers or weapons, from the shop. There are various ways of gaining them.
Action
Tower breaking
1 per 15 parts
Spawn elimination
3-4

KO / Assist

5
Roundcat elimination
7
High KDR KO
10
Chests
25-100
Codes
Between 10 and 1000

for each code
Purchasing crowns
Crowns can be purchased for a set amount of Robux from 600 crowns to 100,000 crowns.
| Robux | | Bonus crowns |
| --- | --- | --- |
| 50 | 600 | 0 |
| 200 | 3,200 | 800 |
| 400 | 8,000 | 3,200 |
| 1,500 | 35,000 | 17,000 |
| 4,000 | 100,000 | 52,000 |
Daily Rewards
Daily Rewards were a feature that every time you join the game, you will be rewarded with free crowns.
But, unfortunately it was removed by the replacement of chests around the map.

Lobby Chests
There are 8 chests located around the lobby, most of them give you 25 crowns, but one gives you 50 and the one on the roof of the lobby building and in the lobby gives you 100.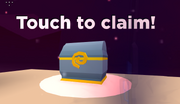 Tips for saving crowns
Collect the daily chests! They are located around the lobby and give you 25 crowns, while a special one will give you 100 crowns. Remember that they respawn every 8 hours! (Hint: The one that gives you 100 crowns is on the roof of the spawn area.)
Don't buy unnecessary skins! They may look nice- but they are merely cosmetic and you may already have the original weapon. However, the skin might be very expensive while you can get the original one for much less crowns, such as the Bombardier costs 4,000 Crowns, however its reskin, the Starblaster costs 9,000! You should only buy skins after you have collected all tools.
Be active in rounds! Many things in rounds can contribute to you gaining more crowns like killing players, getting a high Kill Death Ratio (KDR), and even winning and losing rounds will get you crowns.
Always read the description and stats first when purchasing a weapon- you don't want to get something that's not very good!
Check for codes! They can give you cool stuff and bonus crowns! One code, INTHEDARK gave you a Darkheart sword for free, the Darkheart now costs 7,000 crowns and the code is expired.
How To Obtain
There are multiple ways to obtain Crowns in Super Doomspire. The ways are listed below.
Opening the chests scattered around the lobby (by walking on them), which can give 25, 50, or 100 Crowns, depending on which chest you get.
Buying with Robux.
KO'ing people.
Destroying spawns.
The MVP bonus from games, which can be obtained by getting the most kills in a game, getting the most bricks in a game, or getting the most roundcats in Roundcat Rally. You can also get MVP bonuses by getting the most kills in Infection when your a survivor or getting the most infections when you are infected.
Doing tasks.
Destroying Roundcats in Roundcat Rally.
Collecting eggs scattered throughout the map. (This could only be done during the 2020 egg hunt.)
Winning and losing. Winning gets you 60, losing gets you 20 and getting a normal victory will get you 30 coins (Only happens when you rejoin and win or you join a different server during play).
Gallery