The Darkheart is an Awesome sword that could have been obtained from the now expired code "INTHEDARK". The only way now to get it is to buy it with 7,000 Crowns in the Shop.
Overview
The Darkheart is a sword that has a very unique ability as it will steal health from your opponents with each strike. A normal swing will gain you 5 health, a strike will give you 13 health, and a lunge will give you 8 health. Getting a KO restores 25% of the player's maximum health. This makes the Darkheart one of the best weapons in the game for survivability. However, you suffer small changes in your DPS (damage per second) and mobility, as your lunge takes longer to charge and you swing slower, however, this is compensated by the heal as you will be able to deal DPS for a longer period of time.
This weapon is perfect in the Infection game mode as a survivor as it can keep your health alive against the infected, because the infected have less health allowing slight longevity against big groups of the infected.
This weapon can also be helpful in situations where multiple enemies are chasing you in Sudden Death and you can damage them to get health back.
Buffs and nerfs
Buffs:
Steals life from enemies.
Gain 25% health on kill.
Nerfs:
33% longer recharge time.
10% slower swing speed.
Trivia
The Darkheart is based on the weapon of the same name from the game Sword Fights on the Heights IV by Shedletsky, which is also in the catalog.

The description hints at where to find the sword in-game, being in a dark room.

When this item was only obtainable by code, it had a price of 7,000 in the logbook despite not being able to purchase it.
There is a very faint hue of team color at the base of the sword.
The sword uses the Classic Sword's sound effects, since it was using those sound effects before as a gear.
On 12/25/2020 It got buffed by making the swing speed slightly faster than it was before.
It's the only tool in the game that can steal health.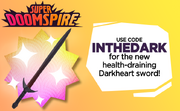 Tips
This is very useful in Infection.
The Lunge attack is the best option in Infection as it provides mobility and has a higher chance to hit multiple enemies at once and KO them as they mostly have 30 health.

The Strike attack can also be a great option for survival in infection as it gives you the most HP when you hit an enemy with one.

If a player is knocked into the void or lava with Darkheart, you still gain HP if the player dies.