Jurassic World: Dominion Dominates Fandom Wikis - The Loop
Play Sound
The lobby is a waiting area for visitors to buy weapons and/or stickers from the shops and wait. It is also a waiting room for where visitors go if they get eliminated, chose to go AFK, or if the round ends. It consists of a rejoining door, battle area, chests, tennis court and an high-up area, primarily for winners of the previous round. It is also called the spawn island as it can be seen from all the maps floating high up in the sky.
Locations
Tennis Court
The Tennis Court is where visitors can practice their reflecting skills against projectiles like Rockets.
It's also a great way to complete some of the tasks that involve reflecting projectles.
There's also a chest near it to get 25 free crowns.
Winners' Platform
The Winners' Platform is where the winners will present themselves for 10 seconds after the team wins. An invisible barrier prevents the winners from jumping off and vice versa while the winners are being presented, although this can be jumped over by using a rocket or a bomb.
The platform's floor is changed to the team's color as of the 6/1/2021 update.
Robbie Round Return
Robbie Round Return is a door that allows visitors to rejoin a match by spending 25 crowns after they die or if they are no longer AFK.
However, visitors cannot rejoin when there aren't any spawn points or only one team has spawns.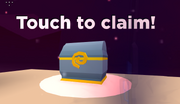 Chests
Chests can be found around the Lobby. These chests can serve as a way to get free crowns. Each chest grants 25 crowns, except for one chest on the roof of the spawn room, which grants 100 crowns and another on mid-top which grants 50 crowns.
After collecting a chest, the user has to wait 8 hours to collect it again. Note that it is 8 hours in real-time, which means the countdown goes down even while they are not visiting the experience.
Battle Area
Battle Arena is where visitors can battle with others as well as build anything they want.
Battle Arena also has 6 Chests outside of the protected area.
Standing Characters (Removed in 20/8/2021)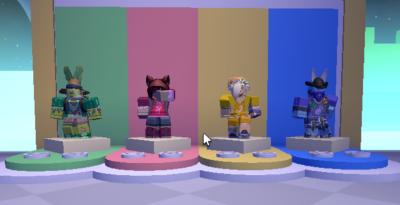 Standing Characters is where visitors can see some merch by spending 5 Robux on each piece of clothing. They also sometimes emote with Stickers.
Red
Yellow
Green
Blue
---
Price for Each
Real-Life Money
Shirt
5
0.06 Dollars
Pants
5
0.06 Dollars
They have now been replaced by clothing racks across the lobby.

Shopkeeper
In the lobby, there is a cardboard cutout of a Shopkeeper that has a sticky note that says "AWAY -S". It is behind a counter with many items behind it. Clicking on the icon with a shopping cart on it will bring you to a store. In this one you can buy accessories to put on your avatar, rather than tools and stickers.
Background
Background is a feature that can change the background corresponding to the season it goes:
It changes the foliage and the floor's color.
Old Edition - Until 21/10/2020 (Green)
Halloween Edition - Since 21/10 until 31/10 (Red Dark and Crimson)
Autumn Edition - Since 1/9 until 1/12 (Orange, Yellow, and Brown)

Winter Edition - Since 1/12 until 1/3 (White and Light Blue) ---current season---

Spring Edition - Since 1/3 until 1/6 (Green and Pink)

Summer Edition - Since 1/6 until 1/9 (Green and Yellow)
Music
Trivia
Until the 21/10/2020 update, the lobby always looked the same with the same green color.