Stickers are cosmetic images that include facial expressions, objects, and more. They can be used to communicate an emotion or an idea, and have many uses.
They can only be used in chat if you own them.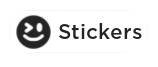 Stickers were added in the 02/11/2019 update. The total number of stickers is currently 404.
How to Obtain
Stickers can be bought from the Shop.
Some of them can be obtained through Codes.
Some of them can be obtained through completing Tasks.
Winning a round for the first time can reward the Victory! stickers for each team.
How are stickers used?
Speech Bubble
(PC) -Click on Z, X, C, and V keys
(XBox) -Clicking on the arrows of the XBox
(Mobile or PC) -Clicking them
To assign the sticker to appear above the players head as a bubble.
Spray
(PC) - Click on T key
(XBox) -Clicking or tapping on buttons
To spray the sticker on the surface.
You can't spray stickers on mobile or tablet.
KO Effect
Stickers can be selected to appear when you are KO'd.

Sticker Patches
Sticker Patches can be used to assign a sticker to appear when you KO another player with a specific weapon.
You can't take off the sticker patch but you can turn it off/on or overwrite it with another sticker patch.
In Chat
Stickers can be used in chat with :stickername: .
Some stickers cannot be used in chat. This is to prevent chat bypassing.
Sticker Logbook
To jump to a specific sticker, use CTRL + F to find the sticker by its name.
Name
Rarity
Cost/

Obtain

Chat Code
Free

:smile:

Free

:heart:

Free

:really?:

140

-----

50

:angery:

120

:poggy:

250/

:hmm...:

280

:joy:

230

:pensive:

240/

:noob:

720

:megaoof:

50

:upset:

210

:cool:

420

:radcircle:

60

:yo!:

120

:funny:

230

:politecat:

120

:pwease?:

500

-----

140

-----

480

:airhorn:

300

:toilet:

120

:greenshroom:

280

:ninja:

50

:ohgeez:

120

:barn't:

120

:x_x:

420

:smugcat:

120

:lol:

120

-----

50

:help!:

120

:no.:

50

:party!:

420

:clown:

410

:what:

60

:huh???:

120/

:rip:

120/

:prideg:

120/

:pridel:

120/

:prideb:

120/

:pridet:

50

:angelic:

50

:impish:

50

:puppy:

120

:kitten:

280

:wahwahwah:

120

:bomb:

500

:boss:

Task

:warrior:

Task

:bloxxer:

500

:oldrobloxlogo:

120

:swordfight:

50

:sunny:

50

:frog:

50

:hypetrain:

120

:ta-da!:

665

:grab:

240

:horse:

120

:stop:

250

:rat:

150

:exclamation:

290

:dollarsign:

280

:aaaaa:

60

:burn:

280

:nope:

150

:cute:

170

:chicken:

20

:i'mwaiting:

120

:gruh:

30

:overhere!:

640

:report:

600

:point&laugh:

50

:musicnote:

50

:melon:

50

:apple:

420

:howlingwolf:

120

:sparkles:

50

:cherries:

120

:cactus:

120

:sheriff:

120

:bell:

120

:yee-haw!:

420

:monsterface:

50

:car:

120

:bunny:

120

:beetle:

50

:pb&j:

640

:bananadance:

120

:watermelon:

120

:woozy:

120

:slap:

120

:lollopop:

280

-----

50

-----

50

-----

120

:punch:

120

:shootingstar:

120

:eyes:

50

:eye:

120

:lips:

50

:questionmark:

120

:duck:

50

:planet:

420

:alien:

50

:fish:

120

:snail:

Free

-----

50

:wink:

420

:angry:

Task

:bye:

50

:hi:

280

:disgusted:

Win in a

Yellow Team

:yellowspire:

Win in a

Green Team

:greenspire:

Win in a

Blue Team

:bluespire:

Win in a

Red Team

:redspire

50

:uparrow:

50

:thisguy:

640

:dab:

420

:panicked:

120

:stayout!:

420

:egg:

420

:squished:

120/

:priden:

280

:sillycat:

280

:evilflower:

280

:oldman:

120

:broccoli:

120

:ohhh:

Task

:blocked:

120

:stinky:

280

:madskull:

120

:runaway:

120

:snoozing:

120

:peace:

280

:tallhat:

280

:distinguished:

280

:littleghost:

420

:burp:

420

:xd:

280

:terrified:

120

:littlepenguin:

640

:chilldog:

640

:louie:

420

:you:

120

:shrug:

900

:santa:

420

:tinyface:

120

:happystar:

280

:burningrage:

480

:cools:

280

:troll:

420

:bonk:

110

:snowman:

120/

:pridep:

120

:robuddy:

280

:giftbuddy:

280

:bee:

420

:wahhh:

50

:greengrin:

280

:friend#1:

280

:friend#2:

280

:friend#3:

280

:friend#4:

280

:friend#5:

420

:b:

420

:cronch:

640

:shoopdawhoop:

640

:upsetgamer:

Task

:littleroyalty:

280

:blobfish:

120

:whale:

250

:coolsmastree:

640

:spooky:

280

:burg:

280

:stinkycheese:

Task

:tennis:

120

:blehh:

280

:unicorn:

Code

:bro:

400/

:i'mbaby:

280

:frozensolid:

Code

:uhh...k:

Code

:beenice:

280

:what'supdog?:

120

:toospicy:

420

:cooldog:

Task

:zombie:

Code

:redleader:

Code

:yellowking:

Code

:greenscientist:

Code

:blueexecutive:

120

:possum:

50

:pizza

420

:jawdrop:

900

:targetspotted:

120

:nooooo!:

120

:explosion:

280

:wizard:

120

:snake:

280

:bullterrier:

120

:rose:

280

:ghost:

640

:knife:

280

:roadrage:

420

:stronk:

420

:bluescreen:

120

:babysprout:

280

:shark:

280

:knight:

280

:polarbear:

900

:bloxycola:

280

:splat:

Code

:dancepotion:

280

:hmmmm:

280

:baggyeyes:

50

:fingerguns:

120

:wahoo!:

420

:fail:

280

:ok:

420

:ohnooo:

420

:toldyaso:

120

:eyeroll:

280

:minustwo:

420

:pyramid:

420

:notalkme:

1000

:megapoggy:

1000

:megajoy:

50

:pig:

50

:bluebird:

120

:chomper:

420

:prankcushion:

120

:crow:

120

:scroom:

420

:ashiin:

280

:smug:

640

:wowzas:

280

:weh:

640

:looking:

280

:wellthen:

50

:coin:

120

:tinydude:

280

:welp:

280

:eep!:

420

:badfeel:

420

:huhwhat:

50

:rock:

50

:paper:

50

:scissors:

280

:megagasp:

50

:workout:

120

:sadcowboy:

120

:rocketrider:

280

:totallyok:

120

:wut:

280

:wecandoit:

50

:log:

420

:sneakokoneko:

280

:own'd:

50

:drenched:

120

:surrender:

420

:pathetic:

280

:shyzombie:

120

:pufferfish:

420

:vvcardinal:

420

:vvazura:

420

:vvbanana:

420

:vvpistachio:

280

:breadcat:

280

:rainbowcat:

120

:spookypumpkin:

120

:noodles:

420

:i'mfine:

120

:duckbomb:

640

:batterup:

120

:dweeb:

280

:lilgus:

280

:douglasduckface:

280

:howard:

280

:rodney:

640

:wince:

420

:gotcha!:

420

:thechin:

280

:whimsical:

280

:instinct:



2000

:bruh:

50

:supersundae:

50

:idea:

120

:superballfan:

50

:trafficcone:

50

:robbieroundreturn:

640

:tix:

420

:shadowclonefan:

280

:bombardierfan:

280

:remotedetonadorfan:

420

:happyhome:

420

:laggy:

280

:dazed:

280

:stopsign:

120

:slyroundcat:

120

:pow:

420

:firedup:

420

:factcheck:

420

:plotting:

420

:sippp:

280

:duckedtape:

280

:kickme:

280

:flyswatted:

420

:nou:

420

:getwreckt:

280

:oldturret:

2000

:let'sgooo:

280

:ohdear:

120

:crossbones:

640

:evileyes:

50

:whistle:

420

:unimpressed:

420

:empty:

280

:abstractsad:

120

:proud:

120

:radfriend:

420

:abstractangry:

420

:innersad:

120

:crumple:

420

:notpoint&laugh:

120

:tacocat:

420

:lavaburned:

120

:bummed:

120

:parrot:

280

:colagrip:

640

:leave:

420

:croaked:

280

:jinkies!:

280

:greenscheme:

420

:roundcattoss:

420

:windowtoss:

640

:painbow:

280

:bigbrain:

420

:redroyalty:

420

:carefulplanning:

420

:greensplosion:

420

:redcheer:

280

:rocketbonk:

120

:swordsup!:

280

:roundcatthumbsup:

280

:victoryspires:

420

:tearpuddle:

280

:radicalroundcat:

280

:twinkle:

120

:trickortreat:

120

:earthworm:

640

:nerdface:

120

:jack-o-lantern:

420/Code

:skeletonlaugh:

120

:pileo'bones:

420

:greatswordfan:

280

:angrypoint:

280

:tinyred:

280

:lildaikon:

280

:bluefacepalm:

420

:hosshogfan:

280

:angryred:

420

:slysip:

420

:redpog:

1000

:i'mnotcringe:

280

:homerun:

2000

:starblargh:

420

:among'em:

280

:fishpoggy:

280

:pigeonpoggy:

3000

:point&shame: