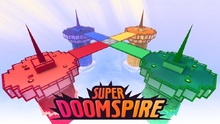 Super Doomspire is the experience that this wiki is based upon. Here is the link to the experience.
Description
Super Doomspire is a modern take and a remastered version of the classic Roblox hit, Doomspire Brickbattle.
The experience has various modes with various objectives and make the experience more fun.
The main objective is to destroy all the opposing spawns and eliminate the enemy teams (except in the Party Modes and Deathmatch)!
There are many items to unlock that each have different features and abilities (with the exception of reskins), and different stickers that can be used as emotes or sprays!
There are many more features than the original experience, including a currency called Crowns that can be spent in the shop to buy new items, a lobby scattered with chests to collect, multiple modes and maps to vote for, and much more!
Stats
Experience Created: 8/24/2019
Experience updated: 09/09/2021
Server Size: 16
Genre: Fighting
Total Visits: 170M
Favorites: 792.8K
Likes: 213K+
Dislikes: 41K+
L:DL Ratio: 83.499%
Stats correct as of: 09/21/2021
Trivia
The experience used to have a Discord Server prior to 5/7/2020, although Polyhex announced the server is going to get archived because of the hard work they had to do to keep the server running. The new server most people use is Brickbattlers Studio, which is unofficial, although run by moderators of the old server. Link (old server) Link (new, unofficial).