Overview
Titans is a gamemode that never made it out of testing in which the four teams spawn in the four corners of the RoyaleGreen map. One member in each team spawns in as a Titan, a player who has 400HP and acts as a spawn for other players on their team.
Strategy
The team must defend their Titan and have their teams' Titan be the last one standing. As time goes on, the water level in the map rises, encouraging players to climb the white Doomspire in the middle of the map, bringing more conflict between the teams.
The Titans spawn in wearing the Team Jersey clothes shown in the lobby.
This map is listed as a Doomspire mode and has all tools enabled.
This is the only map in-game known to ever contain a white Doomspire. In a conversation D_nkers had with blutreefrog, it was confirmed that the spire was generated as a "spectator spire."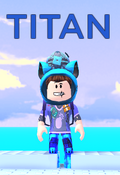 You can test your skills against others in this mode here (this will take you to blutreefrog's testing server but the VIP server is no longer valid)
Now the Titans gamemode is no longer available. It was replaced by Team Death Match.
Trivia
The gamemode was added in 21/1/2020 but it was removed early.